Works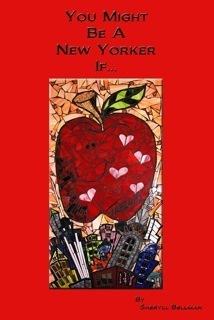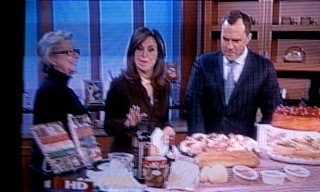 Sheryll Bellman on Good Day NY - Fox 5 News NYC
Best Delis, 'Little Italys' - Some of America's greatest delis are found in New York City. Two new books highlight the best of the best. Sheryll Bellman, author of 'America's Great Delis,' tasted and rated the foods at dozens of delis across the country. She shared her local favorites during Good Day New York.
10 Great Places that Offer a Taste of Italy

Forget mistletoe. Why not celebrate the holidays with pasta and a parade? Italian neighborhoods welcome Christmas with a host of traditions, says Sheryll Bellman, author of America's Little Italys (Seller, $21.95). "They're filled with lights, decorations and carols." She shares with Larry Bleiberg for USA TODAY some favorite places to absorb Italian culture during the holidays and throughout the year.

French Quarter
New Orleans

You wouldn't know it from its name, but the Quarter has Italian heritage, too. During the mid-1850s, it became one of the largest Italian neighborhoods in the USA. The city's famous Antoine's Restaurant was founded by an Italian immigrant from France. But perhaps the most celebrated Italian contribution is the muffaletta sandwich, said to be invented at Central Grocery in the Quarter. 504-524-4784; NewOrleansOnline.com

Little Italy
New York City

New York's Little Italy is a bona-fide tourist attraction, but many businesses have been in the same families for three or four generations, Bellman says. The neighborhood celebrates Christmas in a big way with parades, a manger petting zoo, street vendors and entertainment. "The weeks before Christmas are quite beautiful. It's always lit up with green and red and white lights. It's glorious," Bellman says. 212-484-1222; nycgo.com and littleitalyguide.com

Arthur Avenue
The Bronx, N.Y.

Bellman calls this small neighborhood a quintessential Little Italy, where locals come for cured meats, cheeses and specialty items. Especially popular is the indoor Arthur Avenue Retail Market, which even has a cigar roller. The four-block stretch is decorated for the holidays, and is a foodie's delight with bakeries and restaurants. 212-484-1222; nycgo.com; arthuravenuebronx.com and arthuravenue.com

9th Street Italian Market
Philadelphia

For more than a century, this market has attracted shoppers and chefs to South Philly for what is called the oldest and largest working outdoor market in the country. With more than 100 vendors over nearly 10 blocks, you'll find several shops just selling cheeses and others specializing in pasta. "It's very colorful, and very inexpensive for produce, meats and fish," Bellman says. 800-537-7676; visitphilly.com and italianmarketphilly.org

The Hill
St. Louis

Brick- and tile-making first brought immigrants from Northern Italy to clay mines here in the 1880s. Visitors still come for a chance to sample Italian specialties, like the unique toasted ravioli served at Charlie Gitto's restaurant. 800-916-8938; explorestlouis.com and thehill-stl.org

North End
Boston

Boston's North End is an area of winding roads and alleys. "It's very picturesque wandering up and down the street — almost like being in a small Italian town," Bellman says. She's a fan of restaurants like Caffe Vittoria, known for its coffee and pastries; and Cantina Italiana, famous for homemade bombolotti, a wagon-wheel-shaped pasta. 888-733-2678; bostonusa.com and northendboston.com

Federal Hill
Providence

This small neighborhood centers on Atwells Avenue, which is marked by a piazza and an arch adorned with a pine cone, an Italian symbol for abundance and hospitality. "It's like being in Florence. They have music during the summer and you can sit outside and have coffee," Bellman says. Many people come for Venda Ravioli, a huge store with 200 types of pasta, a bustling bakery and aisles of specialty products. 401-751-1177; goprovidence.com and providencefederalhill.com

North Beach
San Francisco

Like many immigrants, Italians were drawn to Northern California by the Gold Rush. A former Italian neighborhood, North Beach is now a popular tourist attraction. It's home to Fior d'Italia, which calls itself the oldest continuously running Italian restaurant in the country. Many also visit the famous Caffe Trieste for espresso, and to listen to opera on Saturday afternoon. 415-391-2000; onlyinsanfrancisco.com

Little Italy
San Diego

It was tuna fishing that first attracted Italians to this Southern California neighborhood. Although that industry has largely disappeared, the area has bounced back in the past 20 years, and is now known for its restaurants and farmers market. "Every week, they've got something going on," Bellman says. "Tons of people come out for every festival." 619-232-3101; www.sandiego.org or 619-233-3898; littleitalysd.com

Wooster Street
New Haven, Conn.

Yale students and pizza lovers know this is where to come for legendary pies. Bellman loves Frank Pepe Pizzeria Napoletana's famous white clam pizza. It's baked in an increasingly rare coal oven that produces a slightly charred crust. "Their pizza, I have to tell you, there's nothing better. People line up before they open, all week all the time." Others are just as passionate about rival restaurant Sally's Apizza. 203-777-8550; visitnewhaven.com

Loaded with photos, ads and images, this appreciation of Jewish delis in America from author Bellman (Through the Shopping Glass: A Century of New York Christmas Windows) will get readers ready to nosh. Opening with a history of deli culture and kosher food prep, Bellman takes readers on a tour of some of the nation's most famous delis, highlighting their best loved dishes with copious photos, menus, advertisements, and other ephemera. Diners who don't know seltzer from schmaltz will learn the appeal in historical overviews of hallmarks like chopped liver, Dr. Browns Cel-Ray Soda, egg creams, corned beef, and knishes, as well as a handy list of Yiddish terms that will guarantee confident counter-side manner. Longtime patrons of New York's Barney Greengrass, Carnegie Deli and Katz's; Los Angeles's Canters Deli; or Ann Arbor, Mich.'s Zingermans will enjoy bellying up with Bellman as she recounts the history of each establishment, alongside a handful of signature recipes. Readers interested in recreating classic deli fare will find multiple options for dishes like chopped liver, cheesecake, reubens, and stuffed cabbage, as well as local specialties. Though heavily weighted with New York establishments, Bellman captures the look and feel of Jewish delis across the U.S. while illustrating their enduring popularity.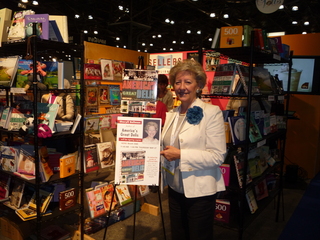 My first deli experience was during a vacation in the summer of 1955 when my family ate at Canter's Delicatessen in the Fairfax area of Los Angeles. I was 11 years old and the bustling deli—with its harried, ancient waiters carrying platters of sandwiches piled high with fragrant corned beef, pastrami and tongue, huge bowls of creamy coleslaw and plates of pickles—introduced me to flavors and characters I had not known in the small Arizona town where I lived.

(Click on link above for the rest of the article)
Anyone fortunate enough to have spent time in New York during the holiday season has warm memories of being mesmerized by the spectacular window displays throughout the city. Even the most jaded New Yorker, wearied by work and the holiday crush, cannot help but slow their frenzied pace to gaze at the sights and sounds of these wondrous displays.

Now, for the first time, displays from the early 1900s to today are gathered in one keepsake volume. Brimming with archival black-and-white and color photography, this book commemorates the unique art of window design, from traditional Victorian windows to the avant-garde.
This exceptional book features a historical look at the delicatessen culture of yesteryear. Laced with histories, archival photos and recipes, this unique book gives the reader a nostalgic look at the most well known delis in America, as well as the historical background of all deli foods.
Frenzied shoppers need only look up for a moment of relief. All over the country, retailers offer store windows designed to delight and entice. "Holiday windows are really the stores' gift to the cities," says Sheryll Bellman, author of Through the Shopping Glass: A Century of New York Christmas Windows (Rizzoli). "And," she adds with Big Apple pride, "New York is the city that produces the best windows."