10 Great Places to Press Your Nose Against the Glass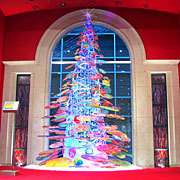 Neiman Marcus, Dallas
"A 15-foot edible candy tree, made of 1,000 pounds of pure sugar, graces the main window at this famous flagship store. Even the beautiful holiday ribbon windows, along each side of the tree and resembling stained glass, have been cast in sugar. Special lighting prevents excess heat that could melt this glorious creation."

Macy's, San Francisco
"Three large windows offer a visible playground for adorable and adoptable puppies and kittens provided by the SPCA. A toy train, possessing all the comforts that little furry ones could hope for, is also on display, and these adorable cats and dogs can be seen frolicking in the windows at all hours. The animals, along with SPCA representatives, are available through Dec. 24."

Nordstrom, Seattle
"Whisper in Santa's ear or have your picture taken with Ol' Saint Nick while he sits in Nordstrom's window ensconced in his whimsical snow-covered cottage. A charming detail: Santa is equipped with a tiny microphone so people on the street can hear the wishes of the children."

Saks Fifth Avenue, Beverly Hills
"Celebrating the snowflake in all of its windows across the country, Saks offers a modern twist on the traditional ice crystal--each a unique and beautiful miracle. Giant snowflakes are surrounded by pulsating light created from custom-made bulbs, and the effect fills the windows with a magnificent sense of wonder."

Van Cleef & Arpels, Costa Mesa, Calif.
"Each store in this upscale jewelry chain features windows with consistent design and color. Emerald green rules, but feathers, diamonds and tiny crystal ornaments also grace these small but perfect windows, giving just a hint of the holiday at hand."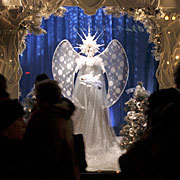 Marshall Field's, Chicago
Mirror, mirror on the wall, who has the cleverest windows in all Chicago? "These 11 windows on State Street offer a quirky version of Snow White's classic fairytale. An animated Snow White (resembling Audrey Hepburn), an ultrafashionable leather-clad Evil Queen, and the Seven Dwarfs' diamond mine turned into a late-night disco are just a few of the many surprises." 

Cartier Jewelers, New York
The tiara, and the requisite fantasy that goes with it, "is the theme in this dazzling jewelry store, celebrating its 25th anniversary. Along with the gorgeous red bow that wraps the store in holiday splendor, the windows are topped with red awnings covered with giant sparkling tiaras." 

MacKenzie-Childs, Palm Beach, Fla.
"Worth Avenue has arrived with this charming holiday fantasy. Reminiscent of its first catalog, M-C's windows are filled with whimsical ceramics, tapestries, velvets and silk. Finally, Florida gets a glimpse of a winter wonderland, complete with snow-covered landscapes and forests with pine trees." 

Bloomingdale's
"A Phantom of the Opera extravaganza--a crystal chandelier, red roses, gilded candelabras and red awnings framing the windows combine to create an 18th-century opera house--happens daily in these romantic and opulent windows. Each is a staged event, highlighting the upcoming movie with authentic sets and original costumes borrowed from the film. As music from the soundtrack plays, visitors notice the unmistakable scent of roses." 

Louis Boston, Boston
"Celebrating the theme 'art is a gift,' these glittering mixed-media windows, featuring women and men formally dressed and beautifully appointed amid white lights, gold foil and holiday blue and white, depict paintings by famous American artists, such as Eugene Speicher, Frederick Taubes and James McNeill Whistler."